Dances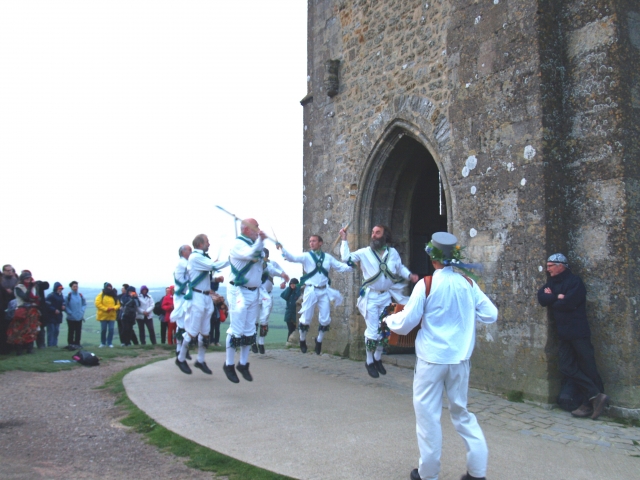 On Glastonbury Tor at dawn, 1st May 2011
Dances for Cam Valley Morris Men:
The Valentine (Fieldtown)
Balance the Straw (Fieldtown)
Country Gardens (Fieldtown)
Lads a Bunchum (Adderbury)
Highland Mary (Bampton)
Young Collins (Fieldtown)
Black Joke (Adderbury)
Cuckoo's Nest (Bledington)
Shooting (Adderbury)
William and Nancy (Bledington)
Banks of the Dee (Fieldtown)
Banbury Bill (Bampton)
Three Musketeers (Bledington)
The Rose (Fieldtown)
Bonny Green Garters (Bampton - Headington)
The Bell (to The Minstrel Boy) (Adderbury)
Vandals of Hammerwich (Lichfield)
Old Molly Oxford (jig)
"Emborough tradition" - after the place where Cam used to practise:
The Greyhound. Music is Little Town of Bethlehem & Ding Dong Merrily on High. Same corner dance form as The Valentine, with slows.
Black Rock. Music is Lily Balero. Played in the key of D, or in G by negotiation.
Brighton Camp. Slow sticking on the B music.
Rambling Sailor. Designed for International Festival of the Sea, Bristol 1996. Morris sticks are used in capstan formation.
Others we dance rarely:
Lollipop Man (Ducklington)
Shave the Donkey (Bampton)
Deck the Hall - Maid of the Mill (Bampton)
Trunkles (Bledington)
Saturday Night (Fieldtown)