Beginning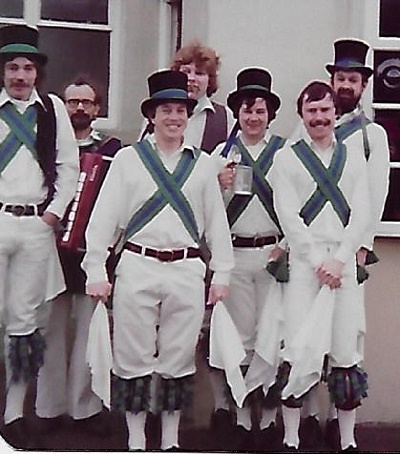 Cam Valley Morris's first public performance, Boxing Day 1981
Ben Lang writes (January 2021):
We danced at the pub where we first practised, the Old Station Inn at Hallatrow. The photo shows the original six dancers and musician.
From left to right:
Andy Ley-Mays from Bristol
His brother-in-law Dave "the box" Rushton (musician)
Chris Stillman, then living in Peasedown, who became our Fool when we had enough dancers
Keith Harris? Andy's mate from Bristol
Tom Rodford, then living in Radstock Steve Evry, living in Bath, later moved to Gloucester
Ben Lang then living in Chilcompton, who approached the others with a view to forming the side, and became the first Squire and Bagman
Chris, Tom, Steve and Ben had been dancing with Priston Jubilee, and Dave was one of Priston's musicians, but we broke away to form Cam Valley under our own control.
Note the absence of the embroidered badges on the baldricks at this early stage, though the particular blue and green ribbons had been agreed and bought. The samples of all the other ribbons of various widths, materials and shades of blue and green which we looked at but rejected are tied around my top hat.
We practised in what appeared to have been a byre or stable at the back of the pub yard. The landlord was quite amenable as long as we went and had a few beers after practice! We had to be careful not to injure ankles by catching the edge of the slurry-trough down the middle of the floor.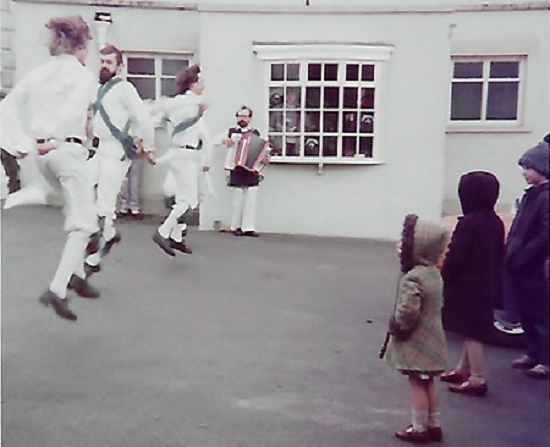 Another photo from Boxing Day 1981
Ben Lang writes (January 2021):
This photo shows half the set - Andy, Keith and Ben. We often formed the set with those three on one side and Chris, Steve and Tom on the other, being the taller three and the shorter three respectively. We thought it looked better and it made a real difference when dancing a leap-frog hey. The shorter guys were very fit and agile (all ex-cavers as well as experienced dancers) but felt they were climbing mountains trying to leap-frog Andy or me.
It's a sobering thought that the two little girls standing watching, my daughters then three and six years of age, are now (in 2021) older than any of the dancers were at the time of the photo!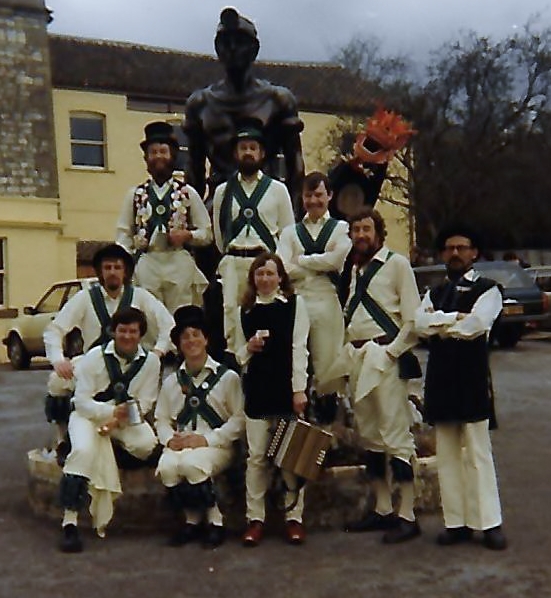 At the Jolly Collier, Camerton, June 1983
Ben Lang writes (January 2021):
Probably one of my last local trips out with the side, as we moved to Camborne in August of '83.
Front row sitting: Tom Rodford and Chris Stillman
Front row standing: musician Sue Dukes, ?? ??, and Dave the box (Rushton) on the end
Middle row: Gary ?? and Steve Evry
Back row: Trevor Hughes, Ben Lang, and whoever is in the dragon.
Trevor Hughes writes (January 2021): The musician Sue Dukes made the body of our first dragon, a huge labour of love, hundreds of individual cloth scales.