Quotes
Paul Reece, Squire of the Morris Ring: "Morris dancing for the 2012 Olympics", Letter to The Times 4th June 2008.
Sir, It was a delight to see your coverage of our 75th morris weekend meeting in Thaxted (June 2). We were able to show the very best of our folk dance traditions from around the country with stunning performances from Saddleworth representing the North West clog dance tradition and Monkseaton performing the intricate and highly entertaining North East rapper and longsword traditions. Among sides dancing the Cotswold tradition were Helmond, who performed these dances during the Nazi occupation of the Netherlands, and East Suffolk celebrating their 50th year with the 80-year-old Des Herring performing in the hobbyhorse that went over to mainland Europe in the Normandy landings. Together with the recent International Sword Spectacular in York with 44 sides from across the UK, US and Europe, the very best of our people's proud regional cultural identity was on display free.

The upsurge of interest in our folk traditions and the ability of the performers of the morris dance, in its different forms, to put on large-scale, colourful and moving performances is achieved largely through self-financing in order to keep these traditions alive at a time when regional cultural identity is increasingly being eroded. As we enter the four-year period of the cultural Olympiad, its planned regional events and the opening and closing ceremonies of the London Games in 2012, there is a strong case to be made for featuring one of our most enduring traditions: the morris dance.
Paul Reece, Squire of the Morris Ring and Thaxted Morris Men, Braintree, Essex
---
Every Olympic city stamps its own identity on the opening ceremony, displaying its culture to an audience of billions. A Liberal Democrat peer (Lord Redesdale) is calling for London to follow suit in 2012 with the nearest English equivalent: Morris dancing. The English "Olympick Games" - or Cotswold Games - which pre-dated the modern Olympics by around 300 years, featured such sports as shin-kicking and cudgel-play. Morris dancing was an integral part of their opening ceremonies. So, could clogs, hankies, sticks and bells make a comeback, becoming as much a part of London 2012 as lycra and isotonic sports drinks?
BBC News Online, 17th October 2005.
---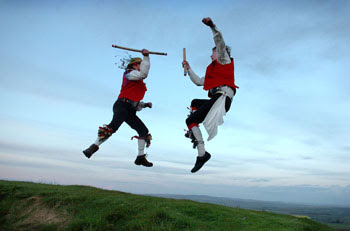 Members of Wyvern Jubilee Morris dancing as the sun rises at Ham Hill on 1 May 2008. Picture by Len Copland, in the Western Gazette.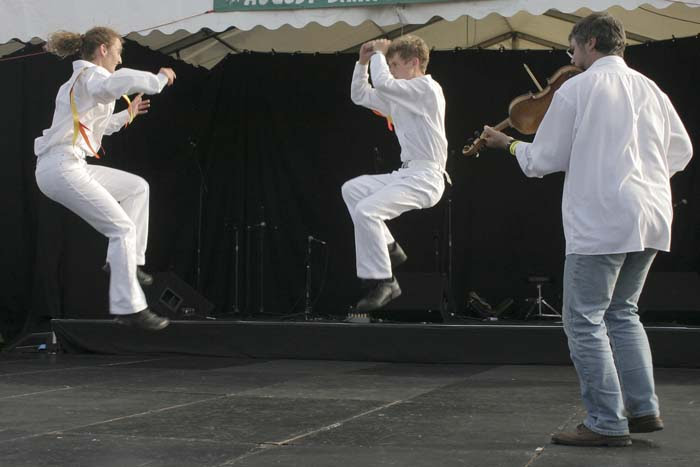 Members of Morris Offspring dancing at the Towersey Festival 2006. Picture by Pete Thomas of The Rich Tradition.